The Forthcoming Left
The Keywords for a change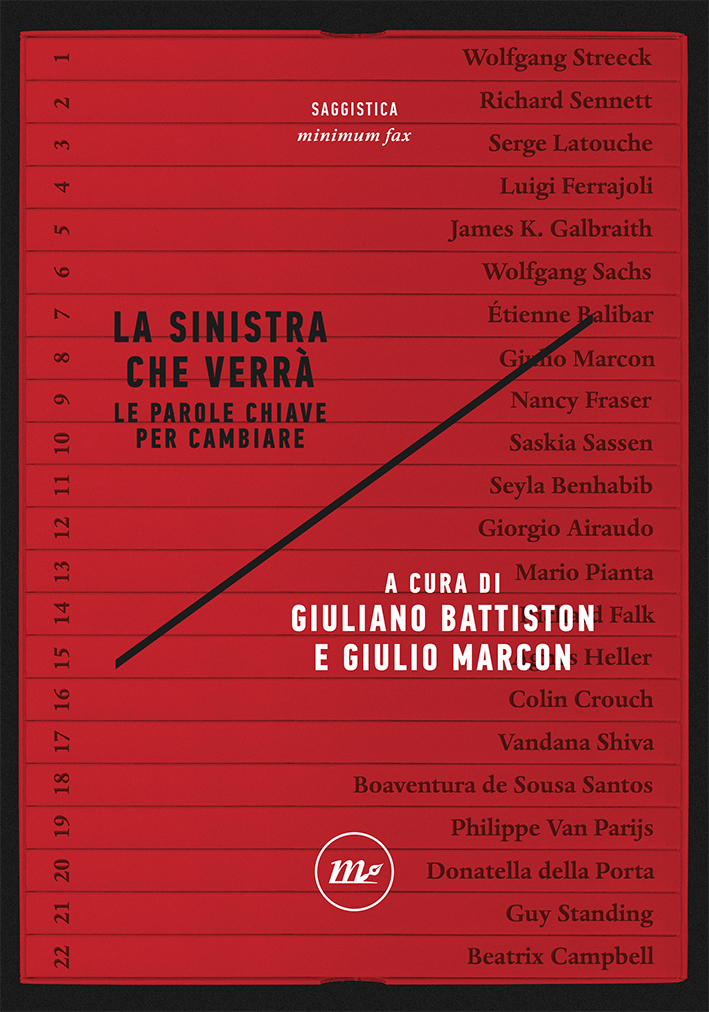 Titolo originale:
La sinistra che verrà
Book published:
February 2018
Twenty-two keywords, twenty-two Italian and foreign distinguished scholars. A common goal: to shape the lexicon of "the forthcoming Left". A collective reflection on the hotspots and ambiguities of present days, on the changes of the societies in which we live, on the means we need to formulate a political culture that could face the challenges of a change. Old and new words – democracy and basic income, feminism, ecology, justice and peace – as test plots in which it is possible to experiment our capability to face the great issues of our time: migrations, populisms, globalizations, climate change, work changes. An authentic and concrete alternative to the long neoliberal domain. A renewed lexicon, founded on the old distinction between Right and Left: justice against privilege, democracy against authoritarianism, rights against exploitation, inclusion against exclusion.
Edited by Giuliano Battiston and Giulio Marcon
Authors: 
Wolfgang Streeck • Richard Sennet • Serge Latouche • Luigi Ferrajoli • James K. Galbraith • Wolfgang Sachs • Étienne Balibar • Giulio Marcon • Nancy Fraser • Saskia Sassen • Seyla Benhabib • Giorgio Airaudo • Mario Pianta • Ágnes Heller • Colin Crouch • Vandana Shiva • Boavenutura de Sousa Santos • Philippe Van Parijs • Donatella della Porta • Guy Standing • Beatrix Campbell
Giuliano Battiston / 1976
journalist and researcher, Battiston writes for newspapers and reviews, like L'Espresso, il venerdì di Repubblica, il manifesto, gli asini and for The Institute for International Political Studies. He is part of the research network GlobalCities – Theatrum Mundi. Since 2010 he has been organizing the program of the Salone dell'editoria sociale (Social Book Fair). He deals with globalization, international politics, armed Islamism and Afghanistan. His last book is Arcipelago jihad. Lo stato islamico e il ritorno di al-Quaeda, published by edizioni dell'asino, with which he realized two books of interviews: Zygmunt Bauman. Modernità e globalizzazione (2009) and Per un'altra globalizzazione.
Giulio Marcon / 1959
general secretary of the International Civil Service and president of the Italian Association of Solidarity, Marcon founded the Lunaria association and, with Goffredo Fofi, "edizioni dell'asino". He has been campaign spokesman of Sbilanciamoci! until 2013. He has been member of the XVII parliamentary term. Among his publications: Le ambiguità degli aiuti umanitari (Feltrinelli 2002), Come fare politica senza entrare in un partito (Feltrinelli 2005), Le utopie del ben fare (L'Ancora del Mediterraneo 2006), Sbilanciamo l'economia (con Mario Pianta, Laterza 2013) and Enrico Berlinguer. L'austerità giusta (Jaca Book 2014).
Press reviews
- Fahrenheit - Radio 3
Giuliano Battiston e Giulio Marcon raccontano "La sinistra che verrà" intervistati da Graziano Graziani: ascolta il podcast.
Listen