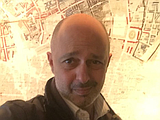 Antonio Talia
Autore
/1977
grew in a cosmopolitan family and has been lucky enough to travel and learn foreign languages since his childhood. So, when he became a journalist he immediately chose to work with foreign affairs.
He worked for seven years in Beijing as a news correspondent for an Italian press agency. During this period he worked on different stories related to crime like:
• the gang that, from Beijing, controlled football betting all over the world;
• the money laundering between Italy and China;
• the rise of Jihadism in Indonesia and the training of special forces in Jakarta;
• Silvio Berlusconi's shell company in Hong Kong;
• the money laundering of the 'ndrangheta in Hong Kong.
Once back in Italy, he worked for three years as a crime reporter for the same press agency, and he worked on the international proliferation of the 'ndrangheta.
He now works as co-author of Nessun Luogo è Lontano ("Nowhere is Far Away"), a foreign affairs broadcast of Radio24, and Io Sono il Cattivo ("I am the bad guy"), a broadcast dedicated to portraying international terrorists and criminals on the same radio and on Audible.
Antonio Talia

: tutti i libri nel nostro catalogo